iNutritionApp: Mobile Application for Nutrition Monitoring using FatSecret API
Keywords:
Mobile Application, Food Nutrition, Calory Intake, FatSecret API, Technology Acceptance Model
Abstract
Mobile application is a software designed to run on smartphones, tablet computers, and other mobile devices. The growing millions of users who are using mobile applications have contributed to an increase in the development of the mobile applications for enterprises, education, the social network and healthcare. Widely used healthcare application nowadays includes general health and wellness, tele-medicine, personal coaching and consultation, medical record tracking, custom reminders and various health management apps. This paper presents a mobile application related to general health and wellness named as iNutritionApp for providing nutrient information, tracking nutrition and calorie intakes with the integration of FatSecret API. The API provides nutritional information based on type of food provided by user. The application was intended to overcome manual calorie intake calculations and assists diet plan. Development methodology of this mobile application utilizes three phases that are system requirements, system design and development, as well as testing. Technology acceptance model with three parts were conducted with 30 respondents by evaluating the developed mobile application through questionnaires. Results of the testing showed that perceived of usefulness (PU) part achieved highest mean score compared to perceived ease of use (PEOU) that include user interface design and navigation parts. Therefore, features and functionality offered by the iNutritionApp is proven to be useful for user in tracking calorie intakes and provide access to nutritional information.
Downloads
Download data is not yet available.
References
Alqahtani, M., & Mohammad, H. (2015). Mobile applications' impact on student performance and satisfaction. Turkish Online Journal of Educational Technology, 14(4), 102–112.
Chițaniuc, M., Miron, B., & Iftene, A. (2018). FoodAR - An Augmented Reality Application used in Gastronomy. 3, 18–23.
EDAMAM. (2020). Food Database API. https://developer.edamam.com/food-database-api
FatSecret. (2020). FatSecret Platform API. https://platform.fatsecret.com/api/
Hariadi, R. R., Khotimah, W. N., & Wiyono, E. A. (2016). Design and implementation of food nutrition information system using SURF and FatSecret API. ICAMIMIA 2015 - International Conference on Advanced Mechatronics, Intelligent Manufacture, and Industrial Automation, Proceeding - In Conjunction with Industrial Mechatronics and Automation Exhibition, IMAE, 181–183. https://doi.org/10.1109/ICAMIMIA.2015.7508027
Haytowitz, D. B., & Pehrsson, P. R. (2018). USDA's National Food and Nutrient Analysis Program (NFNAP) produces high-quality data for USDA food composition databases: Two decades of collaboration. Food Chemistry, 238, 134–138. https://doi.org/10.1016/j.foodchem.2016.11.082
Holst, M., Ofei, K., Skadhauge, L., Rasmussen, H., & T, B. (2018). Monitoring of Nutrition Intake in Hospitalized Patients: Can We Rely on the Feasible Monitoring Systems? Journal of Clinical Nutrition and Metabolism, January.
Javadi, B., Trieu, Q. L., Matawie, K. M., & Calheiros, R. N. (2020). Smart Food Scanner System Based on Mobile Edge Computing. Proceedings - 2020 IEEE International Conference on Cloud Engineering, IC2E 2020, 20–27. https://doi.org/10.1109/IC2E48712.2020.00009
Lohnari, T., Patil, S., & Patil, S. (2016). Use of Mobile Applications in Healthcare : A Review. International Journal of Engineering Research and General Science, 4(1), 38–42.
Ridder, D. de, Kroese, F., Evers, C., Adriaanse, M., & Gillebaart, M. (2017). Healthy diet: Health impact, prevalence, correlates, and interventions. Psychology and Health, 32(8), 907–941. https://doi.org/10.1080/08870446.2017.1316849
Sethia, D., Gupta, D., & Saran, H. (2019). Smart health record management with secure NFC-enabled mobile devices. Smart Health, 13, 100063. https://doi.org/10.1016/j.smhl.2018.11.001
Stylos, J., Faulring, A., Yang, Z., & Myers, B. A. (2009). Improving API documentation using API usage information. 2009 IEEE Symposium on Visual Languages and Human-Centric Computing, VL/HCC 2009, 119–126. https://doi.org/10.1109/VLHCC.2009.5295283
USDA. (2015). Composite of Foods Raw, Processed, Prepared. National Nutrient Database for Standard Reference, 154.
USDA. (2020). Food Data Central. U.S. Department of Agriculture. https://fdc.nal.usda.gov/
WHO. (2011). mHealth - New horizons for health through mobile technologies. https://www.who.int/goe/publications/goe_mhealth_web.pdf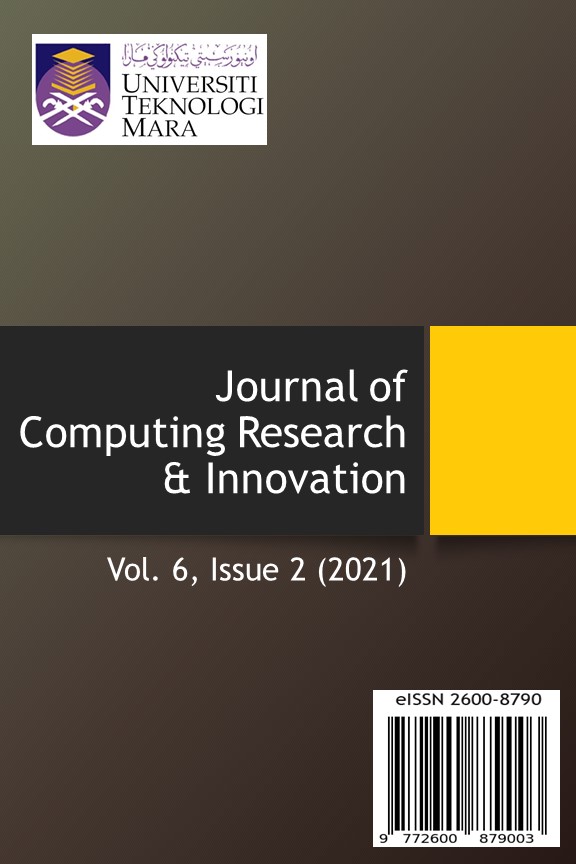 Downloads
How to Cite
Roslan, N. N., Jamaluddin, M. N. F., Ibrahim, A. F., Mohd Fauzi, S. S., Razak, T. R., & JM Gining, R. A. (2021). iNutritionApp: Mobile Application for Nutrition Monitoring using FatSecret API. Journal of Computing Research and Innovation, 6(2), 122–130. https://doi.org/10.24191/jcrinn.v6i2.212
Section
General Computing
License
Copyright (c) 2021 Journal of Computing Research and Innovation
This work is licensed under a Creative Commons Attribution-ShareAlike 4.0 International License.