Empowering Online Safety: A Child-CyberCare Mobile App Approach to Inappropriate Content Filtering in Web Browsing
Keywords:
ABC Algorithm, Content-filtering, Mobile Application, Web Browser, Censor, Online-safety
Abstract
The use of smartphone and digital platform increased skyrocketed over the past decade. Due to generation gap between parent and children, youth internet addiction among early adolescents seems to be increasing. Internet addiction is more likely in children who feel unsupervised, have their privacy violated, or have poor parent-child relationships. Parental supervision, involvement, and meaningful connections reduce these risks and protect children from excessive internet use. Thus, this is the reason why a mobile app that can protect early adolescents is needed. By using this mobile app, parents can track their children's online activity, detect unwanted keywords in Google searches, and receive pop-up alerts. The app's search history lets parents address concerns. SQLite manages keyword lists and search history efficiently. Usability testing and user feedback showed app effectiveness. Participating in their children's online activities teach responsible digital behaviour and creates a safe and supportive online environment. Future work entails enhancing cross-platform compatibility, refining content detection capabilities, and implementing cloud-based synchronization. Further, integrating advanced parental controls and comprehensive reporting mechanisms will fortify the app's ability to protect children's online experiences, positioning the Child-CyberCare app as a robust tool for ensuring digital safety for children.
Downloads
Download data is not yet available.
References
Abdullah, N. N., Mohamed, S., Abu Bakar, K., & Satari, N. (2022). The Influence of Sociodemographic Factors on Mobile Device Use among Young Children in Putrajaya, Malaysia. Children, 9(2). https://doi.org/10.3390/children9020228
Hazimah binti Wan Ismail, W., Ramadhani Mohd Husny, H., Syahman bin Mamat, A., & Ya Abdullah, N. (2020). Parental Control System for Children on Wireless Network. Journal of Computing Technologies and Creative Content, 5(1).
Livingstone, S., Ólafsson, K., Helsper, E. J., Lupiáñez-Villanueva, F., Veltri, G. A., & Folkvord, F. (2017). Maximizing Opportunities and Minimizing Risks for Children Online: The Role of Digital Skills in Emerging Strategies of Parental Mediation. Journal of Communication, 67(1), 82–105. https://doi.org/10.1111/jcom.12277
S Maria Binti Awaluddin, Chan Ying Ying, Norzawati Yoep, Faizah Paiwai, Noor Aliza Lodz, Eida Nurhadzira Muhammad, Nur Azna Mahmud, Norazizah Ibrahim Wong, Noor Safiza Mohamad Nor, & Nik Rubiah Nik Abd Rashid. (2019). The Association of Internet Addiction and Perceived Parental Protective Factors Among Malaysian Adolescents. https://doi.org/10.1177/1010539519872642
Stoilova, M., Livingstone, S., & Khazbak, R. (2021). Investigating Risks and Opportunities for Children in a Digital World: A rapid review of the evidence on children's internet use and outcomes Media and Communications 3 INVESTIGATING RISKS AND OPPORTUNITIES FOR CHILDREN IN A DIGITAL WORLD: A RAPID REVIEW OF THE EVIDENCE ON CHILDREN'S INTERNET USE AND OUTCOMES. www.unicef-irc.org@UNICEFInnocentifacebook.com/UnicefInnocenti
Zhen, R., Liu, R. De, Hong, W., & Zhou, X. (2019). How do interpersonal relationships relieve adolescents' problematic mobile phone use? The roles of loneliness and motivation to use mobile phones. International Journal of Environmental Research and Public Health, 16(13). https://doi.org/10.3390/ijerph16132286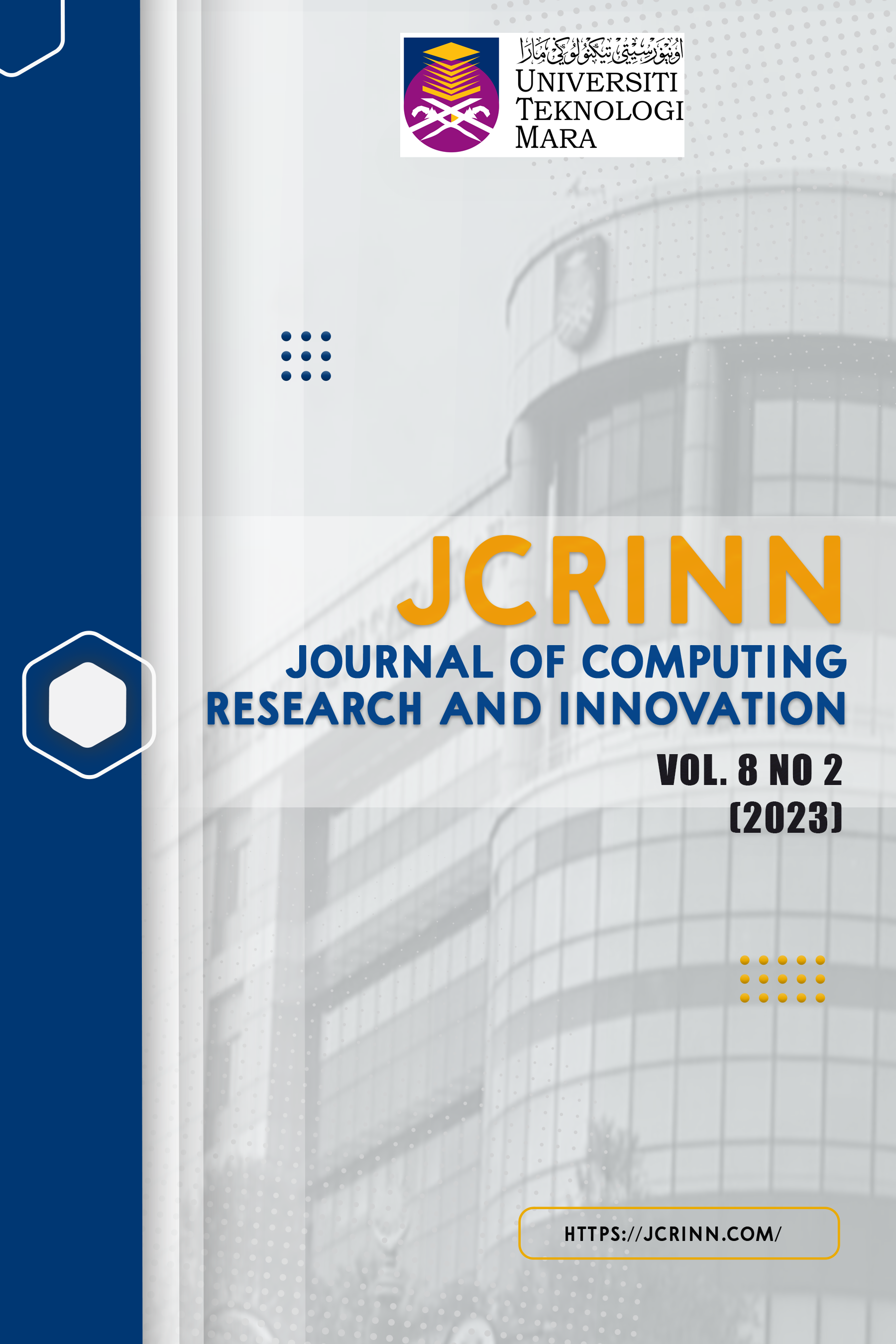 Downloads
How to Cite
Hamid, R. S., Iman Hazwam bin Abd Halim, Muhammad Nabil Fikri bin Jamaluddin, Muhamad Arif bin Hashim, & Nurfarah Hani Che Ismail. (2023). Empowering Online Safety: A Child-CyberCare Mobile App Approach to Inappropriate Content Filtering in Web Browsing. Journal of Computing Research and Innovation, 8(2), 144–155. https://doi.org/10.24191/jcrinn.v8i2.374
Section
General Computing
License
Copyright (c) 2023 Journal of Computing Research and Innovation
This work is licensed under a Creative Commons Attribution-ShareAlike 4.0 International License.