IoT based Car Parking Management System using IR Sensor
Keywords:
car parking management system, car parking, Infrared sensor, IR sensor, LCD screen, nodeMCU, Internet of Things, IoT
Abstract
This paper proposes an IoT based Car Parking Management System that is developed to display the vacant or available parking slot. It integrates a nodeMCU as microcontroller with IR sensor and  LCD screen. The IR sensor is used to detect the absence or presence of a car when it enters the parking slot,  and the LCD screen is then used to display the vacant parking slot to the driver. The parking slots are
continuously monitored, and the data is continuously updated in the LCD screen. The proposed parking system is developed using the Internet of Things (IoT) technology with the minimum cost, effective and efficient. The main purpose of the proposed parking system is to help or assist drivers in finding a vacant parking slot. Furthermore, the proposed parking system can also record the availability status of par king slot and the exact time a car enters or exits a parking slot in the database for the use of the administrative management. Thus, it also helps
the drivers in reducing their time spent in finding vacant parking slots. As such, the drivers save their energy and will help reduce the traffic  congestion in the parking area. The prototype  for proposed parking system was developed to visualize and stimulate the real parking system
environment, and a demonstration of the prototype has proven the capability of the system to reserve the exact location of the parking slot by displaying on the LCD screen . Then, a user acceptance test was conducted with 30 respondents to determine the effectiveness of the prototype for the proposed parking system . The result obtained from the testing was positively accepted by most of the participants. Therefore, the proposed parking system has been proven to be beneficial to the drivers and can also motivate other developers to contribute to more future projects to help the drivers in finding a vacant parking slot easily. 
Downloads
Download data is not yet available.
References
Agarwal, P., Sharma, S., Gupta, L., & Manideep, B. (2017). Smart Electronic Garbage Management System- Based IOT. International Journal of Soft Computing and Engineering (IJSCE), 7(1), 93–96.
Ali, Z. H., Ali, H. A., & Badawy, M. M. (2015). Internet of Things (IoT): Definitions, Challenges and Recent Research Directions. International Journal of Computer Applications, 128(1), 37–47.
Chowdary, U. V., Rohith, K., Sandeep, P., & Ramu, M. (2015). Home Automation System Using IR Sensors. International Journal of Electrical and Electronic Engineering (IJEEE), 4(6), 11–16.
Deekshitha, Disha, D., Malavika, & Soumya. (2017). Traffic Monitoring System Using IR Sensors. International Journal of Advance Research, Ideas and Innovations in Technology, 3(3), 1045–1057.
Kousalya, S., Priya, G. R., Vasanthi, R., & Venkatesh, B. (2018). IOT Based Smart Security and Smart Home Automation. International Journal of Engineering Research & Technology (IJERT), 7(04), 43–46.
Larisis, N., Perlepes, L., Stamoulis, G., & Kikiras, P. (2013). Intelligent Parking Management System Based on Wireless Sensor Network Technology. Sensors and Transducers Journal, 18(Special Issues), 100–112.
Mitra, S., Mishra, P., Daniel, J. A., & Balaji, S. (2019). Smart Light for Home with Automatic Direction and Intensity Adjustment using Arduino. International Journal of Recent Technology and Engineering (IJRTE), 8(1S4), 479–484.
Morajkar, P., Bhor, V., Pandya, D., Deshpande, A., & Gurav, M. (2015). Smart Garbage Management System. International Journal of Engineering Research & Technology (IJERT), 4(03), 1117–1120.
Rani, L. P. J., Kumar, M. K., Naresh, K. S., & Vignesh, S. (2017). Dynamic Traffic Management System using Infrared (IR) and Internet of Things (IoT). Third International Conference on Science Technology Engineering Management (ICONSTEM) 2017, 353–357.
Rao, Y. R. (2017). Automatic Smart Parking System using Internet of Things (IOT). International Journal of Engineering Technology Science and Research, 4(5), 225–228.
Srikanth, S. V., Pramod, P. J., Dileep, K. P., Tapas, S., Patil, M. U., & Sarat, C. B. N. (2009). Design and Implementation of a Prototype Smart PARKing (SPARK) System Using Wireless Sensor Networks. International Conference on Advanced Information Networking and Applications Workshops 2009, 401–406.
V. Reve, S., & Choudhri, S. (2012). Management of Car Parking System Using Wireless Sensor Network. International Journal of Emerging Technology and Advanced Engineering, 2(7), 262–268.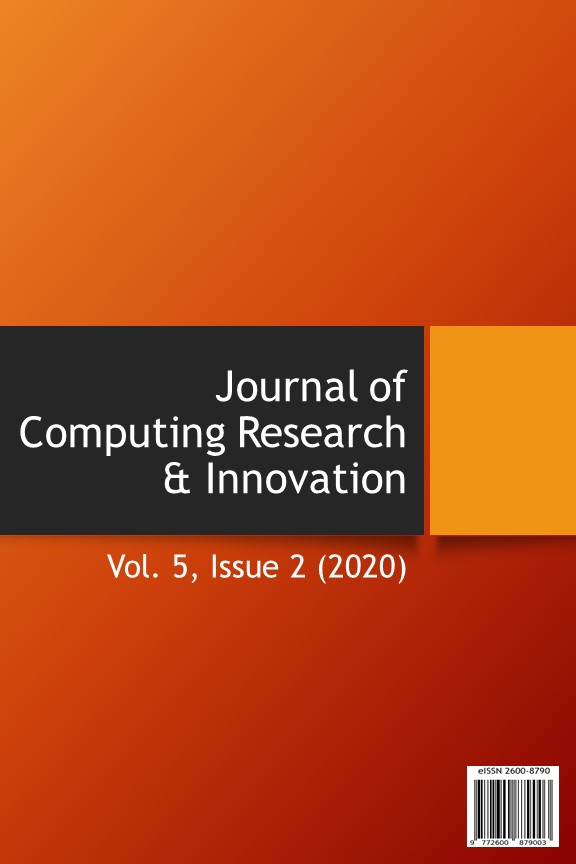 Downloads
How to Cite
Abd Kadir, M. M., Osman, M. N., Othman, N. A., & Sedek, K. A. (2020). IoT based Car Parking Management System using IR Sensor. Journal of Computing Research and Innovation, 5(2), 75–84. https://doi.org/10.24191/jcrinn.v5i2.151
Section
General Computing
License
Copyright (c) 2020 Mohd Nizam Osman, Khairul Anwar Sedek, Nor Arzami Othman
This work is licensed under a Creative Commons Attribution-ShareAlike 4.0 International License.