Fitness Tracker Mobile Application for Calisthenics Exercises
Keywords:
Fitness Tracking Application, Calisthenics Exercises, Mobile Application
Abstract
Living in a world of hectic schedule between work and personal life has made many individuals difficult to find time for exercising and keep track their fitness progress. Memberships for gym nowadays is costly and even hiring a personal trainer is not everyone can afford. Due to these challenges, this paper introduces a fitness tracker mobile application named iCalFit that assists users in managing their calisthenics exercises routine and encourage individuals to engage in exercises despite their constrained time and resources. The application provides guides for calisthenics exercises, tracking users' exercises, its calorie loss and reminders. Development methodology involved three main phases which are requirement identification, design and development and testing. The assessment of the mobile application is based on technology acceptance model, that considers three main components: Intention of Use (IU), Perceive Usefulness (PU) and Attitude (A). The questionnaire covers 15 questions distributed over to 31 randomly selected participants. PU had gained highest score out of three components, proven that the mobile application developed is efficient and capable of assisting user during exercise routine. The development of iCalFit is believed that it can solve individuals with limited fitness opportunities and drives for a healthy lifestyle.
Downloads
Download data is not yet available.
References
Alam, M. Z., Hu, W., Kaium, M. A., Hoque, M. R., & Alam, M. M. D. (2020). Understanding the determinants of mHealth apps adoption in Bangladesh: A SEM-Neural network approach. Technology in Society, 61, 101255. https://doi.org/10.1016/j.techsoc.2020.101255
Azmi, K., & Kusnanik, N. W. (2018). Effect of Exercise Program Speed, Agility, and Quickness (SAQ) in Improving Speed, Agility, and Acceleration. Journal of Physics: Conference Series, 947, 012043. https://doi.org/10.1088/1742-6596/947/1/012043
Birkmeyer, S., Wirtz, B. W., & Langer, P. F. (2021). Determinants of mHealth success: An empirical investigation of the user perspective. International Journal of Information Management, 59, 102351. https://doi.org/10.1016/j.ijinfomgt.2021.102351
Chenxiao Han, Yaoming Jia, Shibo Yu, Yuming Zhang, & Houbo Hu. (2023). Effects of aerobic exercise on cognitive function in different populations. Frontiers in Sport Research, 5(4). https://doi.org/10.25236/FSR.2023.050407
Ferguson, B. (2014). ACSM's Guidelines for Exercise Testing and Prescription 9th Ed. 2014. The Journal of the Canadian Chiropractic Association, 58(3), 328.
Hamid, R., Syed Ali, S. K., Maliki, A. B. H. M., Megat Daud, M. A. K., & Nadzmi, A. (2023). The Effectiveness of Five Minutes Calisthenic Exercise on Depression, Anxiety and Stress Levels Among Teenagers. In S. F. Syed Omar, M. H. A. Hassan, A. Casson, A. Godfrey, & A. P. P. Abdul Majeed (Eds.), Innovation and Technology in Sports (pp. 95–108). Springer Nature. https://doi.org/10.1007/978-981-99-0297-2_8
Lenhart, O. (2019). The effects of income on health: New evidence from the Earned Income Tax Credit. Review of Economics of the Household, 17(2), 377–410. https://doi.org/10.1007/s11150-018-9429-x
Rider, S. (2016, June 16). Calisthenics: A fitness resurrection. National Geographic. https://www.nationalgeographic.co.uk/2016/06/calisthenics-a-fitness-resurrection
Roslan, N. N., Jamaluddin, M. N. F., Ibrahim, A. F., Mohd Fauzi, S. S., Razak, T. R., & Jm Gining, R. A. (2021). iNutritionApp: Mobile Application for Nutrition Monitoring using FatSecret API. Journal of Computing Research and Innovation, 6(2), 119–127. https://doi.org/10.24191/jcrinn.v6i2.212
Singh, K., & Landman, A. B. (2017). Chapter 13—Mobile Health. In A. Sheikh, K. M. Cresswell, A. Wright, & D. W. Bates (Eds.), Key Advances in Clinical Informatics (pp. 183–196). Academic Press. https://doi.org/10.1016/B978-0-12-809523-2.00013-3
Statista. (2023). Global Mobile App Downloads 2023. https://www.statista.com/statistics/241587/number-of-free-mobile-app-downloads-worldwide/
Thomas, E., Bianco, A., Mancuso, E. P., Patti, A., Tabacchi, G., Paoli, A., Messina, G., & Palma, A. (2017). The effects of a calisthenics training intervention on posture, strength and body composition. Isokinetics and Exercise Science, 25(3), 215–222. https://doi.org/10.3233/IES-170001
World Health Organization. (2020). WHO Guidelines On Physical Activity And Sedentary Behaviour. https://apps.who.int/iris/rest/bitstreams/1315866/retrieve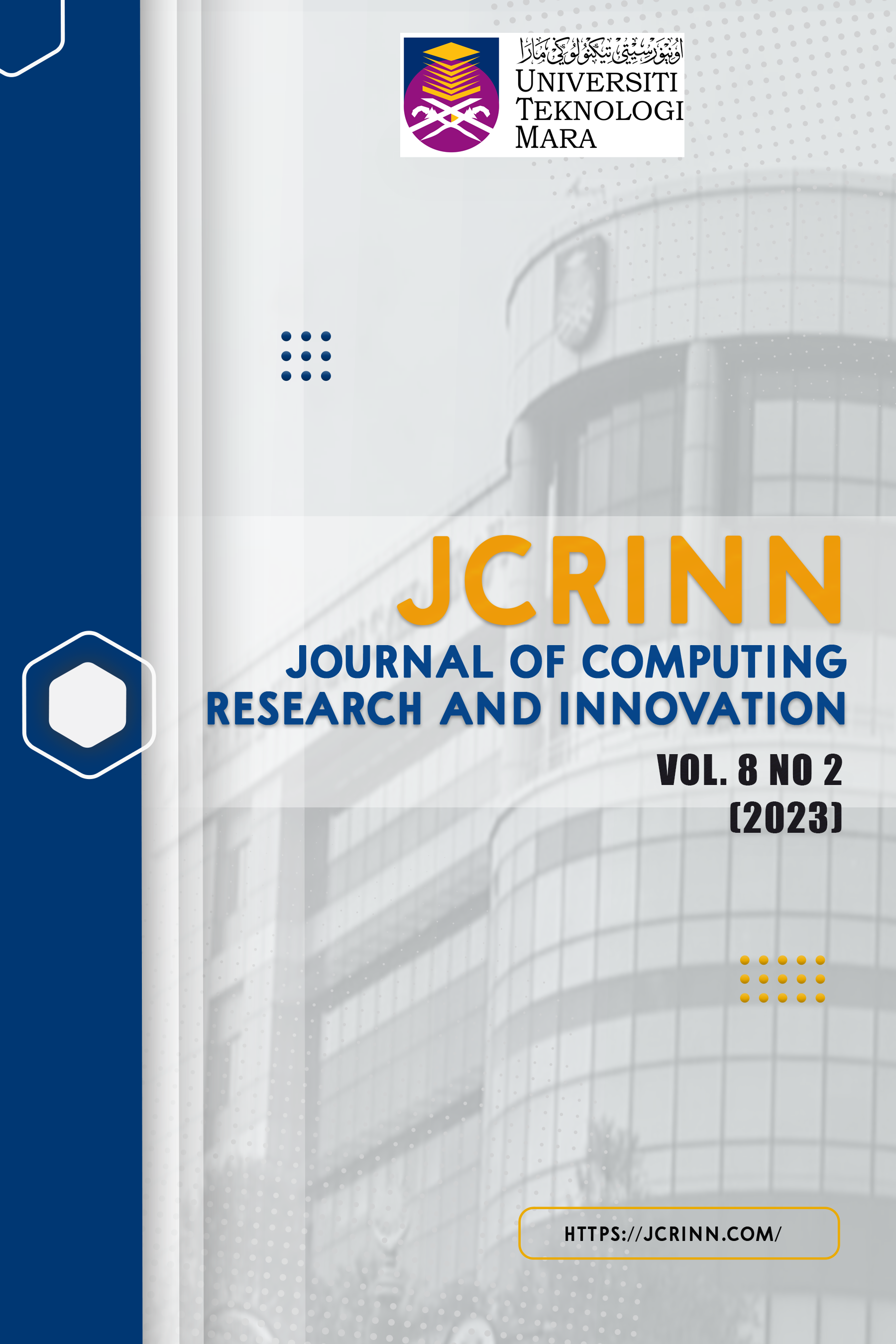 Downloads
How to Cite
Aiman Harith Zaharudin, Jamaluddin, M. N. F., Iman Hazwam Abd Halim, Alif Faisal Ibrahim, Mohd Faris Mohd Fuzi, & Ros Syamsul Hamid. (2023). Fitness Tracker Mobile Application for Calisthenics Exercises. Journal of Computing Research and Innovation, 8(2), 168–177. https://doi.org/10.24191/jcrinn.v8i2.370
Section
General Computing
License
Copyright (c) 2023 Journal of Computing Research and Innovation
This work is licensed under a Creative Commons Attribution-ShareAlike 4.0 International License.