Performance Analysis of Open-Source Network Monitoring Software in Wireless Network
Keywords:
network monitoring software, performance, response time, packet loss, TCP attack, UDP attack, threads
Abstract
Nowadays, computer networks are used in education, sports, business, transportation, manufacturing, and more. Thus, it makes the network more complex and harder to monitor, especially in terms of performance. The implementation of network monitoring software presents a viable solution for resolving this issue. It is because network monitoring software can monitor behaviours, provide alertness for any failing component of a computer network, and measure performance such as CPU usage, bandwidth, throughput, response time, and packet loss. However, network monitoring software has common problems, such as being hard to set up and making it hard to find the best network monitoring that fits the requirements. Thus, this study aims to identify network monitoring software that is easy to configure and analyse the performance of network monitoring software in terms of response time and packet loss. The study comprises the implementation of open-source network monitoring software, including PRTG, OpManager, Zabbix, and LibreNMS. The two experiments were conducted by launching TCP attacks for response time and UDP attacks for packet loss. Both attacks consisted of four scenarios: 15 threads, 30 threads, 45 threads, and 60 threads. As a result, PRTG offers a simpler installation procedure and easier configuration options, with a straightforward and attractive Graphical User Interface (GUI) that allows for all configurations to be conveniently performed directly through the interface. For monitoring websites, users need to add the device that was targeted by the website and choose an HTTP sensor for response time and PING for packet loss. The evaluation was based on the lowest average response time and consistency in the detection of packet loss. Consequently, Zabbix demonstrates the highest level of responsiveness about web services, which have the lowest average response time and consistently exhibit the lowest occurrence of packet loss.
Downloads
Download data is not yet available.
References
Geetha Nandikotkur (2018). 200,000 Cisco Network Switches Reportedly Hacked. Retrieved May 2023, from https://www.bankinfosecurity.com/200000-cisco-network-switches-reportedly-hacked-a-10788
Ghafir, I., Svoboda, J., & Prenosil, V. (2015). Network Monitoring Approaches An Overview. Third International Conference on Advances in Computing, Communication and Information Technology- CCIT 2015. DOI: 10.15224/978-1-63248-061-3-72
Hernantes, J., Gallardo, G. & Serrano, N. (2015). IT Infrastructure-Monitoring Tools. The IEEE Computer Society, 88-93
Jiang,M., Jianfeng, F. & Xiaodeng, Z. (2023). Research on Key Technology and System Design of Network Performance Monitoring System. 2023 IEEE International Conference on Control, Electronics and Computer Technology (ICCECT), Jilin, China, 210-214, doi: 10.1109/ICCECT57938.2023.10140534.
MCMC (2020). Internet Users Survey 2020. Retrieved May 2023, from https://www.mcmc.gov.my/skmmgovmy/media/General/pdf/IUS-2020-Report.pdf
Peeva, B. (2018). Website Response Time Explained by WebSitePulse. Retrieved May 2023, from https://www.websitepulse.com/blog/website-response-time-main-factor-for-your-online-business-revenue
Rahman, W., Phong, T. N., Rusliyadi, M., Laxmi., L. E. & Shankar, K. (2019). Network Monitoring Tools and Techniques Used in the Network Traffic Management System. International Journal of Recent Technology and Engineering (IJRTE), Volume-8, Issue-2S11,4182-4188. DOI: 10.35940/ijrte.B1603.0982S1119
Rivenes, L. (2016). What are the Causes of Packet Loss? - Datapath.io. Retrieved May 2023, from https://datapath.io/resources/blog/causes-of-packet-loss/
Tsapardakis,E., Ojo, M., Chatzimisios, P. & Giordano. (2018). Performance Evaluation of SDN and RPL in Wireless Sensor Networks. 2018 Global Information Infrastructure and Networking Symposium (GIIS), Thessaloniki, Greece, 1-5, doi: 10.1109/GIIS.2018.8635599.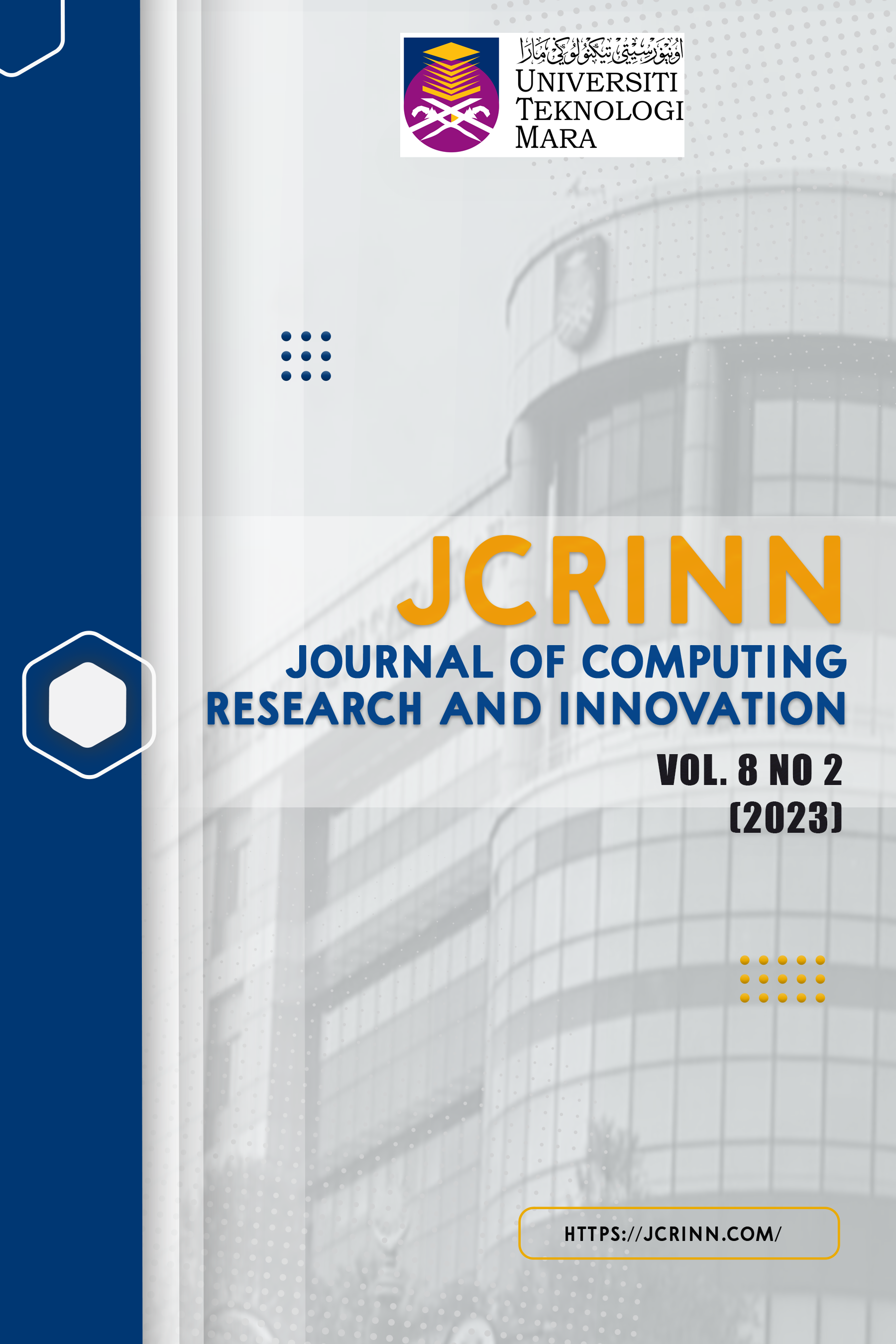 Downloads
How to Cite
Mohd Fuzi, M. F., Mohd Mahdzir, M. F., Abd Halim, I. H., & Ruslan, R. (2023). Performance Analysis of Open-Source Network Monitoring Software in Wireless Network. Journal of Computing Research and Innovation, 8(2), 31–44. https://doi.org/10.24191/jcrinn.v8i2.375
Section
General Computing
License
Copyright (c) 2023 Journal of Computing Research and Innovation
This work is licensed under a Creative Commons Attribution-ShareAlike 4.0 International License.