A Web-Based Student Residential Searching Integrated with Google Maps and WhatsApp API: A Case Study of UiTM Arau Perlis
Keywords:
Student Residential Searching, Google Maps, WhatsApp API, Non-Resident Student, Landlords
Abstract
Every year, the university receives many students from all over the state or country. Consequently, the college facilities at the university are unable to accommodate the volume of students who recently enrolled sufficiently. Besides, some old students do not get college facilities because the university gives those facilities to newly registered students. This causes some students to experience problems in finding a rental room that suits their needs. Therefore, a web-based Student Residential search integrated with Google Maps and WhatsApp API was designed and implemented, that allows students, especially non-resident students to find and rent rooms near UiTM Arau Perlis. The rental rooms displayed on this website are rental rooms that the landlord wants to rent. Landlords can register the rental rooms they want to rent by logging into the website, while tenants can only rent the house after logging in. Besides, the Student Residential Searching System also was integrated with the WhatsApp API, enabling the admin to notify the landlord if the information such as the electric or water bill they uploaded, was invalid for validation purposes. While the integration of Google Maps allowed students to search for rental properties based on location. The system uses the System Development Life Cycle (SDLC) by implementing the waterfall model as the methodology. Usability testing was conducted to determine user acceptance using a set of questionnaires, where thirty participants were chosen to test and evaluate the proposed system. The findings and analysis showed that the system was manageable, usable, and reached participants' expectations and achievement. Hence, the system helps the rental management between admin, landlord, and tenant to be more effective and smoother to complete the process.
Downloads
Download data is not yet available.
References
Albino, M. (2021). Development of a Car Rental Management System with a Scheduling Algorithm. International Journal of Science, Engineering, and Technology, 9(2), 1-7.
Cambridge English Dictionary. (2022, November). https://dictionary.cambridge.org/dictionary/english/
Gommans, H. P., Njiru, G. M., & Owange, A. N. (2014). Rental House Management System. 4(11).
Ikuomola, A., & Asefon, M. P. (2020). A Secured Mobile Cloud-Based House Rental Management System. Proceedings of 3rd International Conference on Applied Information Technology (AIT), 1–17.
Jakobsson, M. (Ed.). (2016). Understanding Social Engineering Based Scams. Springer.
Ke, Q. (2017). Sharing Means Renting?. An Entire-Marketplace Analysis of Airbnb. Proceedings of the 2017 ACM on Web Science Conference, 131–139. https://doi.org/10.1145/3091478.3091504
Manvalasundaram, V. K., Sindhia, M., Shalini, A., Suganya, R., & Yuvashree, M. (2020). Bookland – An Android Application for Rental Books. GEDRAG & ORGANISATIE REVIEW, 33(02), 1275–1280.
Misyam, M. R., & Selamat, N. (2021). House Rental Management System. Applied Information Technology And Computer Science, 2(2), Article 2.
Mohite, V., Murkute, P., & Kakade, S. (2022). Online Car Rental System using Web Technology. International Journal for Research in Applied Science and Engineering Technology, 10(5), 2215–2218.
Panasyuk, A., Yu, E. S.-L., & Mehrotra, K. G. (2019). Improving Geocoding for City-Level Locations. 2019 IEEE 13th International Conference on Semantic Computing (ICSC), 416–421.
Ramya, N., Ajay, H., & Balaji, J. (2022). Online Book Rental System. Research and Applications of Web Development and Design, 5(3).
Rathore, K., Syed, A., & Patel, R. (2021). Rental House Management System. International Research Journal of Modernization in Engineering Technology and Science, 3(5), 1093–1103.
Voumick, D., Deb, P., Sutradhar, S., & Khan, M. M. (2021). Development of Online Based Smart House Renting Web Application. Journal of Software Engineering and Applications, 14(7).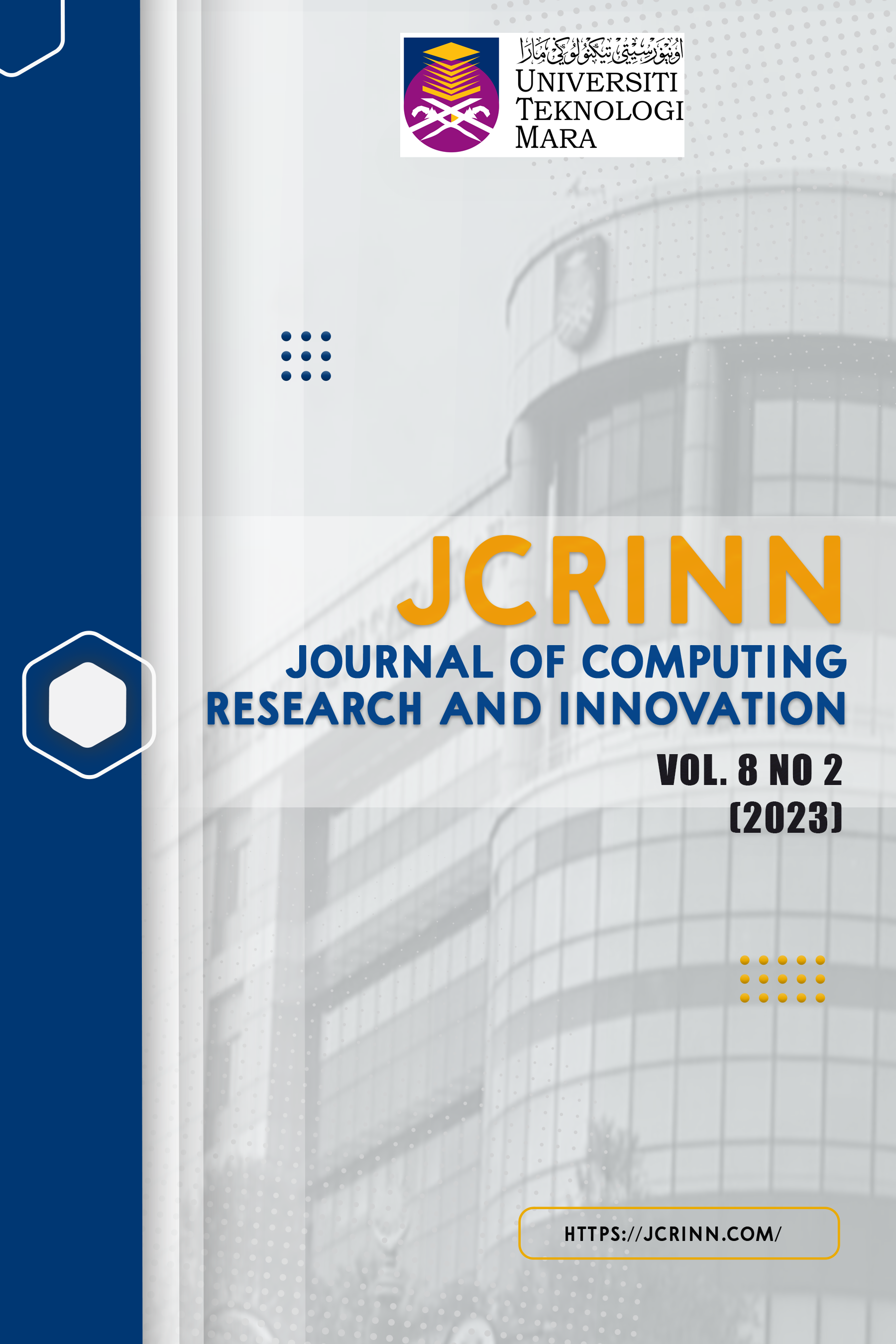 Downloads
How to Cite
Osman, M. N., Othman, N. A., & Sedek, K. A. (2023). A Web-Based Student Residential Searching Integrated with Google Maps and WhatsApp API: A Case Study of UiTM Arau Perlis. Journal of Computing Research and Innovation, 8(2), 20–30. https://doi.org/10.24191/jcrinn.v8i2.372
Section
General Computing
License
Copyright (c) 2023 Journal of Computing Research and Innovation
This work is licensed under a Creative Commons Attribution-ShareAlike 4.0 International License.